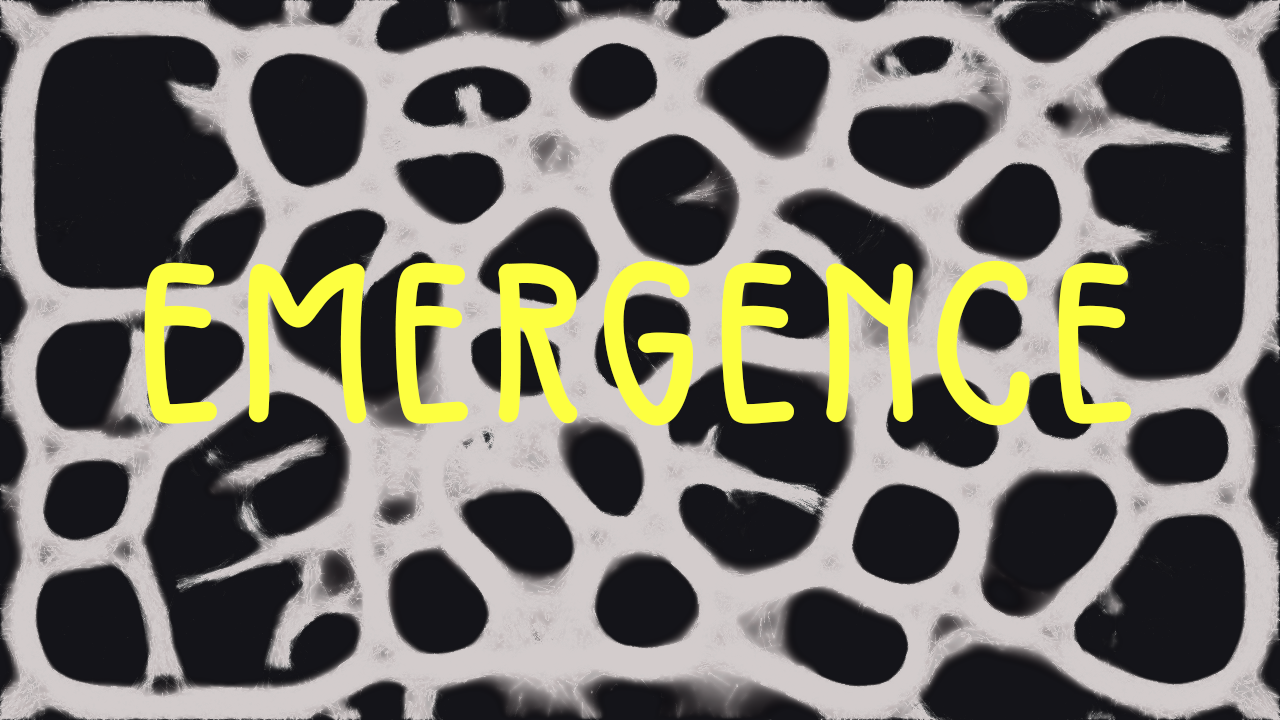 Emergence
A downloadable Expérience for Windows, macOS, and Linux
français

Emergence est une simulation de Blob avec un propos esthétique.

Raccourcis :


W/Z : Ralentir la simulation
X : Accélérer la simulation
C : Prendre une capture d'écran (enregistrée dans le dossier image de l'ordi)
Espace : Mettre la simulation en pause
Ctrl + S : Sauvegarder les réglages
Clique droit : Ouvrir/Fermer les options
Echappe : Ouvrir/Fermer le menu pause

La simulation est réalisée sur Unity grâce à un Compute Shader. Elle est très inspirée de celle de Sebastian Lague.
La simulation est composée de milliers d'"agents" qui se déplacent à vitesse constante en laissant une trace derrière eux. Ces agents ont 3 détecteurs devant eux placés en arc de cercle. Lorsqu'un de ces détecteurs détecte une trace, l'agent tourne dans la direction du détecteur.
Avec ces quelques règles, on obtient vite un résultat visuellement bluffant et très organique. En modifiant certaines valeurs, comme l'angle de détection, ou la vitesse de rotation, la simulation peut changer du tout au tout, donnant un impression de chaos (dans le principe, tout est prévisible, dans les faits, il y a trop de données à prendre en compte).
Pour ceux qui veulent aller plus loin, lisez les liens en description de la vidéo de Sebastian Lague.

/!\ Des incompatibilités sont à prévoir pour les ordinateurs démunis de cartes graphiques, ou ayant une carte graphique trop ancienne, ou ayant une carte graphique intégrée à la carte mère. (Oui bah les simulation en temps réel ça pompe des ressources, que voulez-vous)
english

Emergence is a slim simulation with aesthetic purpose.

Hotkeys :

W/Z : Slow down the simulation
X : Speed up the simulation
C : Take a screenshot (stored in Picture folder)
Space : Pause the simulation
Ctrl + S : Save current settings
Right click : Open/Close options
Escape : Open/Close pause menu

The simulation runs with Unity via a Compute Shader. It's mainly inspired by Sebastian Lague's.
The simulation is made of thousands of "agents" with a constent speed and letting a trail behing them. those agents have 3 sensors front of them disposed in circle arc. When one of those sensors senses a trail, the agent turns in the same direction the sensor is.
With those very simple rules, we quickly get a bluffing and verry organic result.Modifying some values, as sensing angle, or rotation speed, the simulation can dramatically change, giving a sensation of chaos (in principle, everything is predictible, but in facts, there is too much datas to consider).
For those who would want to get deeper, read the links in description of Sebastian Lague's video.

/!\ Incompatibilities can appear with cumputers which don't have GPU, or an old GPU, or a shiped GPU. (Yeah well real time simulations drain ressources, don't they).



español

Emergence es un simulación de limo con un proposito estético.

Teclas de atajo

W/Z : Ralentizar la simulación
X : Acelerar la simulación
C : Tomar una captura de pantalla (registrada en la capreta imagen)
Espacio : Pausar la simulación
Ctrl + S : Guardar la configuración actual
Clic Derecho : Abrir/Cerrar los opciones
Escape : Abrir/Cerrar el menu de pausa

La simulación es realisada con Unity gracias a un Compute Shader. Es muy inspirada por la de Sebastian Lague.
La simulación es compuesta de milliares de "agentes" quien se mueven a velocidad constante, dejando una traza detrás de ellos. Estos agentes tienen 3 sensores delante de ellos, colocados en arco de círculo. Cuando uno de estos sensores detecta una traza, el agente gira en la dirección del sensor.
Con estas algunas reglas, un resultado visualement espectacular y muy orgánico esta rapidamente obtenido. Modificar algunas variables, como el ángulo de detección, o la velocidad de rotación, cambia la simulación totalmente, producendo un impresión de caos (en principio, todo esta previsibile, en la práctica, hace demasiados de datos que tomar en cuenta).
Para esos que quieren irse más lejos, lea los vinculados en la descripción de la video de Sebastian Lague.

/!\ Incompatibilidades pueden suceder con los computadores sin carta gráfica, o con una carta gráfica demasiada antigua, o con una carta gráfica integrada a la placa base. (Entonces, las simulaciones en tiempo real drenan mochos recursos, es así)

Install instructions
français

Pour Mac, il est possible que l'application soit refusée. Pour le moment il n'y pas de solution. Vous pouvez toujours essayer d'autoriser le lancement des applications d'origine inconnue.



english

With MacOS, it's possible the application would be denied. For the moment, there is no solution. You still can try autorize unknown origin application to launch.

español

Con MacOS, esta possible que la aplicación sea negada. Por el momento hace nunca solución. Podeís intetear autorizar el lanzamiento de las aplicaciones de origen desconocida.

Download